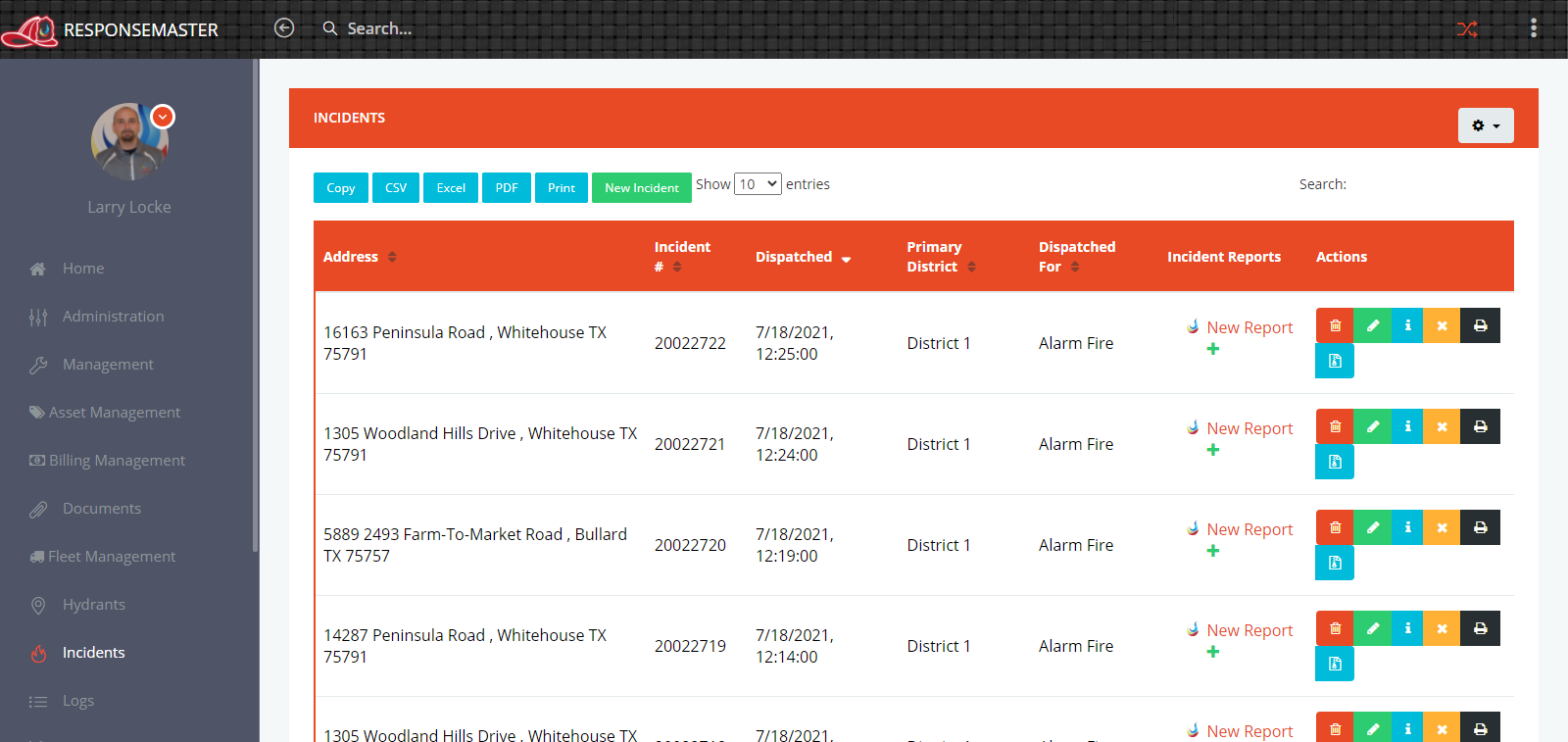 Before switching to Response Master, we were using three different systems for reporting, response, and cost recovery.  After switching not only are we saving money overall, but have recovered enough to pay for itself plus.  The reporting software also automatically loads to TXFIRS/NFIRS making one less step for me to do as well.  The reports…
- Craig Powell Fire Chief - Liberty County ESD#7
From all of us here at Moore VFD, I would like to say thank you for all you guys do for us. You have made my job easy as a chief and everyone else's job as well. We had an awesome year last year, through your hard work and what you collected for us we raised almost 50 percent of our ESD budget amount. For a small dept with a very small budget that is big for us, very big. With a great team in place, and your team to support us, a slightly bigger esd budget for 2019/2020 fiscal year we have positive growth coming. So from all of us, please pat each one of your members on the back and tell them thank you!
Features that help...
ResponseMaster is an easy-to-use application that enables users to do a multitude of tasks from their computer or mobile device while in the field. A single integrated system that shares data between tasks, eliminating the need for redundant data entry in multiple programs.
ResponseMaster includes a powerful reporting system, offering canned reports but also allows you to create your own completely custom reports via an easy-to-use interface.
Fleet Management
ResponseMaster has a flexible Fleet Management system that can help your department maintain your fleet whether you do your work in-house or outsource it. Create PM plans that automatically create custom work orders based on rules. Checkoffs, and Fuel Tracking both feed ODO and Engine hours to the PM and Fleet system.
Dashboards
On-line dashboard to keep you informed on your departments activities. Use our canned layouts for easy setup or create a custom layout and add external content. Get incident info, live map showing incidents, and real-time location of apparatus, real-time weather info including windspeed and humidity, bulletin board, fire danger, and much more.
Scheduling
ResponseMaster's scheduling system allows you to define your own shifts, and schedules, then assigned personnel to a schedule. If personnel are assigned to an apparatus and the apparatus checks en route the personnel are automatically added to the report.
Gear Wash
ResponseMaster's gear washing tracking system makes it easy to log each time your turnout gear is partially washed or a full wash has been completed. Optional Kiosk can be installed next to the extractor to make it easier and faster for your firefighters to log the wash.
Daily Log
ResponseMaster allows your crews to create a daily log. Log significant events, and create pass-down notes to oncoming crews.
Map
With ResponseMaster's Live Map, you can see hydrants, apparatus, active incidents, responding personnel, HazMat, Occupancies, and your own layers such as box alarm boundaries, and districts.
Active Directory
If your department uses Active Directory ResponseMaster can integrate to automatically create, edit and deactivate users within ResponseMaster using your Active Directory. Reducing data entry and allowing for streamlined user activation and giving the user only one password to remember.
Station Alerting
ResponseMaster offers the most cost efficient station alerting system on the market. Our plug-and-play solutions are flexible, and don't require permits, electricians, or expensive technicians to install or configure. We offer lights, strobe lights, automated dispatch voice alerts, gas / electric shut off, RS-232 control, and dry contact closure for automating bay doors, access control, traffic signals and more, all wired over standard network cable.
Heatmaps
Part of the custom reports module allows you to create heat maps based on any parameter such as property value loss, or property value saved, number of incidents, qty of HazMat stored, etc.
Track your department's occupancies, create custom inspections, permits, violations. Add HazMat and On-Site materials to an occupancy, automatic Pre Fire Plan creation. When an incident comes in that matches the occupancy address be alerted on the mobile app with any HazMat and go right to the pre-plan.
Optional Insurance Billing capability to assist your department in recovering costs accrued while working incidents, handling false alarms, inspection billing, and permit billing services available, all with no additional actions required.
Import or add your hydrants to ResponseMaster to allow for flow tests, and inspections. Pre-Plans automatically show the closest 2 in-service hydrants, and the mobile app allows finding the closest in-service hydrant from the incident page.
SCBA Fill Log
ResponseMaster's SCBA fill tracking system makes it easy to log each time an SCBA cylinder has been filled. Optional Kiosk with an RFID can be installed next to the cascade system creating a no typing or writing log, making it easier and faster for your firefighters to log the fill and get back in service.
Event System
ResponseMaster's Event Module allows you to record events, create custom event types, then record attendance, set start and end times, event type, and what personnel attended, optionally upload an attachment and roster.
Multi FDID
ResponseMaster is the only true multi FDID RMS allowing you to add more than one fire department under one account and are incident information to reduce duplicate data entry. ResponseMaste automatically breaks the data back out for NFIRS reporting under each FDID. Perfect for multi-department ESDs and associations.
Website Widgets
ResponseMaster has widgets that you can embed on your website to provide real-time information on things like your call volume and fire danger. Simple to set up.
ResponseMaster offers a way to log company level training with just a few clicks and lets you create classes that automatically create certificates fro your personnel and attaches it to their training record.
Asset Management
With ResponseMaster you can create your own Asset Types, set rules, create checkoffs for assets, import and add your assets, then assigned them to a person, apparatus, station, or district. Track the history of the asset with asset logs, record checkoffs, add attachments.
No fuss NFIRS Reports
The incident reporting section with a user-friendly interface to walk users through the reporting process. Multiple pull-down lists, all with search field capability to speed you through your reports. Automatically submit NFIRS reports for your department to remain compliant. No action is required on your part.
QA Reports
Optional process to provide Quality Assurance checking of completed reports.
Fuel Tracking
Track fuel usage from both gas stations and bulk fuel storage sites. When using a bulk fuel system, you can define storage tanks and locations, set the type of fuel, the capacity of the tank, a minimum qty on hand, and a vendor, and if you choose when the min-qty on hand is reached automatically, email the vendor to reorder.
Station Duties
ResponseMaster lets you create station duties for your crews to complete and allows your crew to log when they are done.
Document Repository
ResponseMaster allows administrators to upload documents and files for easy access by your personnel. Easly share department SOPs/SOGs and other documentation.
Custom Forms
Create custom forms from within ResponseMaster. Create custom fields including drop-down and multi-select lists add them to your custom form, add email addresses to submit the form to. Perfect for Uniform orders, supply requisition requests, and much more.
NOAA
ResponseMaster uses NOAA data to automatically fill out weather-related fields in the incident report and to provide proactive alerts to your personnel about adverse weather events via dashboards and the website.
Try ResponseMaster Now!
Make life easier for you and your department with ResponseMaster!